The Women Wear No Clothes at All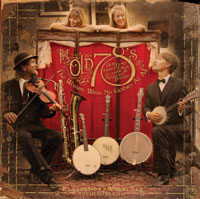 Listen
Beaver Slide Rag

The Women Wear No Clothes at All

Liberty Bell March

In the The Washington Post Music Review, Julie Thanki says:
The Old 78's....and their infectious mix of classical and ragtime music stole the show.
Tunelist
Samples of each and Electronic Downloads available on CD Baby
Beaver Slide Rag (C): 1927, "Peg Leg" Howell & His Gang, Violin, Sing the Blues for Me, African-American Fiddlers 1926-1949, Curly:Fiddle, Ray:Banjo-mando, Carole Anne:6-String, Mel:Bari
The Women Wear No Clothes At All (Bb): 1928 Fiddlin' Bob Larkin (1870-1942) from Hazen, Arkansas. The late Dr. W.K. McNeil (Ethnomusicologist, The Ozark Folk Center), a friend and an amazing historical resource for many, put together a fabulous 3 CD collection of early Arkansas recordings, Somewhere in Arkansas. This collection has had a huge influence on us and is a valuable resource for anyone in the Old Time music realm. Fiddlin' Bob actually sang the verse seven times in the original recording! His words may have evolved from the line "She don't wear no Sunday shoes" (mistaking "clothes" for "shoes") from the tune "I Got a Gal in Baltimore", combined with the Minstrel Era song "She Gets There Just the Same." Curly:Fiddle, Ray:Banjo-mando, Paul:Banjo, Seth:Harmonica, Carole Anne:6-string, Mel:Cello Banjo, all sing!
You and a Canoe (Romance) (Cm): Emile Grimshaw from the sheet music ("played by The E.G. Banjo Quartet is recorded on HMV Record B.2728, pub. Clifford Essex & Son, London.") Clarke:Banjo published 1st Banjo, Curly:published 2nd Banjo, Carole Anne:Cello Banjo arr. Clarke
Eli Green's Cake Walk (Dm): 1898, Sadie Koninsky, Banjo Solo Arr. by Jos. Morley, Traditionally in Am, only 2-3 (of the 4 parts) are generally played. We play the 2 most commonly played parts in the key of the piano score (Dm) for contradances. Curly-Banjeaurine, Ray:Fiddle, Carole Anne:6-string, Mel:Bari, Band arr. Curly
Maybelle Rag (C): Homer Davenport and the Young Brothers. Curly:Fiddle, Carole Anne:6-string
Monroe Stomp (F): 1929, (from Louisiana fiddler) Hiter Colvin (1900-1975). Curly:Fiddle, Ray:Banjo-mando, Carole Anne:6-string, Mel:Cello Banjo
Liberty Bell March (G and C): 1893, John Phillip Sousa, Banjo Solo Arr. by Parke Hunter, Band arr. Curly, Curly:Banjo Solo, Ray:Banjo-mando, Carole Anne:2nd Banjo, Mel:Bari
The Lion/Hole in the Wall/John Wild's Reel (Am): "The Lion" (from the Frank B. Converse Analytical Banjo Method, 1887) and "Hole in the Wall" (also known as "The Tycoon Jig" in Buckley's New Banjo Method, 1860) are 2 versions of the same tune. "John Wild's Reel" appears in The Converse Method as a medley with "The Lion", all from Clarke's sheet music library. Curly found "Hole in the Wall" in Cole's Book of 1000 Fiddle Tunes. Clarke:Minstrel Banjo, Curly:Fiddle, Carole Anne:6-string
St. Louis Tickle (C): 1904, initially published by "Barney & Seymore," a pseudonym of Theron C. Bennett (1879-1937). The B-part, (stolen) from "Buddy Bolden's Blues" and known as "Funky Butt", actually refers to flatulence and is one of the earliest known references to the concept of "funk". Buddy Bolden is considered by many to be the father of Jazz. Curly:Fiddle, Ray:Banjo-mando, Carole Anne:6-string, Mel:Bari
Cripple Coon (F): Hoyt Ming and His Pepsteppers, LP New Hot Times. Curly:Fiddle, Carole Anne:6-string
On the Mill Dam (Galop) (A): 1897, A.A. Babb, Curly was first introduced to this tune when he played with Clarke Buehling and The Skirtlifters in the late 1980's. Curly:Banjo Solo, Ray:Banjo-mando, Carole Anne:6-string, Mel:Bari arr. by The Old 78's
Jimmy Sutton (D & A): A Traditional tune that we've played for many years with many influences. Curly:Fiddle & "baaa", Ray:Banjo-mando, Paul:Banjo & Vocal, Seth:Harmonica, Carole Anne:6-string, Mel:Cello Banjo
Temptation Rag (Cm): 1909, Henry Lodge, Curly:Banjo Solo arr. from piano score, Carole Anne:2nd Banjo arr. Curly
Babe (Eb): 1929, East Texas Serenaders, Curly:Fiddle, Ray:Banjo-mando, Carole Anne:6-string, Mel:Bari
Get off Your Money (C): 1929, The Stripling Brothers, Curly:Fiddle, Carole Anne:6-string
The Raccoon's Picnic/Champion Jig (Cm): Two minor jigs from Clarke's extensive music library. "R.J. Hamilton 1890 S.S. Stewart (#442)" (published as Coon's Picnic)/ "Clarence L. Partee 1891 John F. Ellis & CO, Washington D.C." Originally published for 2 banjos, we relied heavily on the parts as written. Clarke:Banjo Solo, Curly:Cello Banjo, Carole Anne:2nd Banjo
Carolina's Best (G): 1930, The Grady Family, Curly:Fiddle, Ray:Banjo-mando, Carole Anne:6-string, Mel:Bari
Hor De Man (Joldeti) (Gm): Translated roughly as "Hora of the Hand" from the village of Joldeti. Christina Crowder and John DeMetrick have collected, recorded and disseminated many Romanian tunes. Their scholarly work, desire to share, and Christina's phenomenal accordion playing have brought an astounding new and breathtaking repertoire to the Old Time community. We can't add enough superlatives to honor their contribution to the music world. Curly:Fiddle, Carole Anne:6-string