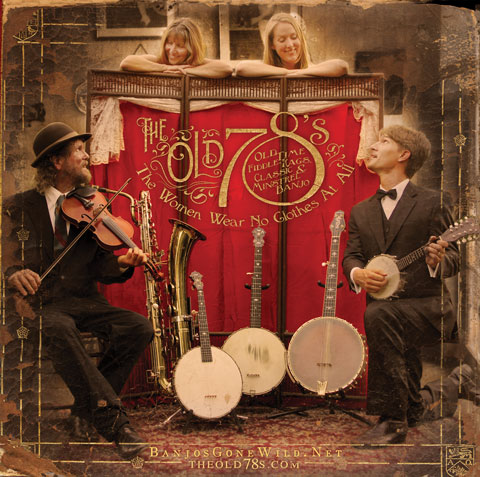 The Old 78s
Featuring Curly Miller, Carole Anne Rose, and Ray & Melanie Palmer
The Old 78's are excited to announce their newest collaboration with two fabulous musicians, Ray and Melanie Palmer. It is almost impossible to describe the fun that musicians can create with really big saxophones, surprisingly small banjos to extremely huge banjos plus many-sized banjos in-between, not to mention fiddles and a kazoo.
Their new CD together, "The Women Wear No Clothes At All", celebrates this collaboration and explores Ragtime, Early Jazz, Jug, Old Time and Early Banjo tunes — a sound that must be heard to be believed! Guest musicians include Clarke Buehling, Paul McGowen, and Seth Shumate to round out the fun! Order here on this website or from CD Baby (which also offers electronic downloads). Also available at Elderly and County Sales.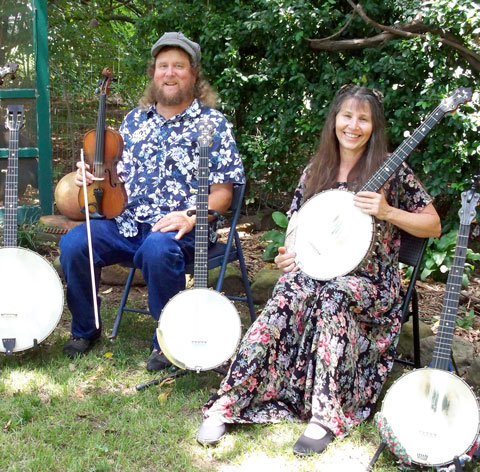 "The Old 78's...and their infectious mix of classical and ragtime music stole the show!"


— The Washington Post at The Old Time Banjo Festival
"To hear some of this unique sound, check out The Old 78's...These folks are great"!


— Tony Trishka in The Banjo Newsletter
Curly and Carole Anne have been featured performers and the dance band at major festivals across the country including Wheatland, Merlefest, Winfield, The Old Time Banjo Festival, The Ozarks Celebration Festival, and for numerous festivals at The Ozark Folk Center just about every year since the early 1990's. They have also taught and performed at some of the most highly regarded Fiddle and Banjo teaching camps such as Swannanoa, Ashokan, and Mars Hill and will be at Mars Hill again in 2012. They were selected for a Folk Alliance Showcase for three years in a row and were featured in Cathy Fink's Banjo Festival in Washington, DC in 2009 with such notables as Mike Seeger and Bruce Molsky and are scheduled to return in the 2012 festival. The duo also plays for contra and square dances at major festivals, dance camps and for Irish Step Dancing troupes. In 2011, they played for The Farmer's Ball, The John C. Campbell Folk School, The Arkansas Dance Weekend, the monthly Fayetteville Contra Dance, plus many other dances around the country.
The duo was featured in an article and on the cover of The Old Time Herald in 2006! They helped inspire the new Gold Tone 5-string Cello Banjo and, in collaboration with Clarke Buehling, issued the ground-breaking CD "The Old 78's". Their Ragtime, Charleston, Early Jazz, Romanian and Jug Band repertoire aptly demonstrates Curly's ability to capture the essence of the early 1900s fiddle styles, not to mention their choice of humorous songs and kazoo selections.
Carole Anne's custom 6-string banjo and the unique way she plays it, puts a relentless pulsating beat on every up-tempo tune they play. The duo is also known for their Classic Banjo repertoire (including the Bluegrass favorite Russian Rag) arranged in traditional Banjo Orchestra settings. Everywhere they go festival audiences, dancers and campers are delighted by their music and enchanted by their performances.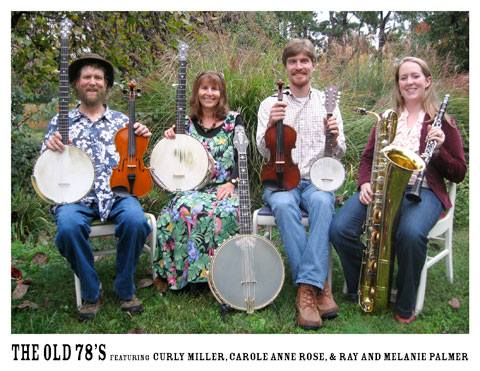 Their new collaboration with Ray and Melanie Palmer adds a fullness and rich musicianship that this early 1900s music had when originally performed, "back in the day"! Curly's sophisticated arranging skills have found an outlet with this four-piece juggernaut and he is determined to use as many different types of banjos as possible! Ray's ability to match the melody, create counter melodies, and improvise on both the fiddle and banjo-mandolin adds an entirely new dimension and certainly spices things up. Melanie's baritone sax powerfully delivers the bass notes that any tuba, bowed bass, or jug player could wish for. And the bari contributes just the right amount of Klezmer to bring the band's Romanian and Eastern European repertoire back in time about one hundred years. These two outstanding musicians have played and enjoyed the same repertoire as Curly and Carole Anne and fate has brought them together to continue the fun!
Melanie has performed with Wynton Marsalis and Robin Eubanks but her long musical background begins at age 6 (on piano) and includes playing the sax for 13 years. She has a B.A. in music (saxophone performance) from the U of A and played baritone sax in the UA Jazz Ensemble plus bari, tenor and alto sax and clarinet in various wind ensembles over the years. Most recently, she is the baritone saxophonist for the Arkansas Winds Concert Band. In The Old 78's, Melanie plays the bari sax for the Classic Banjo repertoire and for Ragtime, Charleston, Early Jazz and Jug tunes. It might be hard to imagine, but that big saxophone CAN sound like a jug! Her skills are a powerful addition to the band's Romanian pieces and the (extremely large) cello banjo is a perfect for their Old Time repertoire.
Ray also started at an early age but on instruments in the violin family. He has been a member of various symphonies including the Gulf Coast Symphony, the Topeka Symphony, and the Salt Lake Civic Orchestra and currently plays with the Arkansas Philharmonic and the Symphony Orchestra of Northwest Arkansas. His interest in The Old 78's style of music was sparked while playing with the Paragon Ragtime Orchestra whose specialty was accompanying silent films from the early 1900's with period-correct music arranged for a small orchestral ensemble (and some bizarre sound effect implements). Since then, Ray has been a part of various groups of Old Time musicians, playing fiddle, mandolin, and the three-string cello making his an extremely knowledgeable contribution to the collaboration. After graduating from the Violin Making School of America, Ray opened The Palmer Violin Shop in 2008 (www.PalmerViolins.com), making violins, violas, and cellos using only traditional methods and materials, plus providing repair services to professional musicians, teachers and students from across the region. His vast experience in complex string music makes him uniquely qualified to add his musical perspective and talent to The Old 78's!
"I didn't realize that banjos could be so entertaining!"


— Peter Ostroushko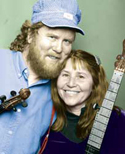 Curly Miller and Carole Anne Rose play "Extreme" pumped-up rowdy Old Time fiddle and clawhammer banjo, Hillbilly Fiddle Rags, Classic Banjo duets, Celtic, World, and historic music, featuring the duo's unique combination of talents.
Curly is one of the premier fiddlers in the country today whose tone, texture and abilities, especially in the flatted keys, have broken new ground in exploring the old tunes. Curly has the unique ability to capture the raw essence of peasant dance and party fiddling from remote, indigenous fiddlers from European and North American cultures. Carole Anne's own intense clawhammer technique is combined with her custom designed 6-string (5-string style) banjo that has an 1893 S.S. Stewart 12 1/2" Imperial Banjeaurine pot. The power and drive that she achieves together with Curly, was described "like a freight-train coming through your living room!"
Together, their music recreates the wild energy and driving force of the great Hillbilly Bands of the 1920's - not to mention their entertaining choices of humorous songs, Classic Banjo masterpieces, kazoo selections, and the occasional banjo joke. Their CDs have received rave reviews in The Old Time Herald, The Banjo Newsletter, Fiddler Magazine, Folk &Acoustic Music Exchange, and The 5-String Quarterly, and are played on radio stations across the US and abroad. They were filmed for an AETN educational program featuring their music, for various documentaries, and for the Hollywood production, Frank and Jesse, starring Randy Travis and Rob Lowe.
PREVIOUS COLLABORATION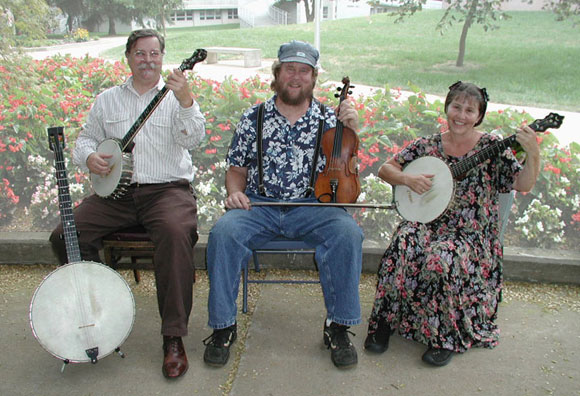 Curly & Carole Anne's most recent CD in collaboration with Clarke Buehling is also available! It features many unusual pieces from Clarke's highly regarded sheet music library, the Classic Banjo Orchestra talents of the 3 musicians and Clarke's Minstrel Banjo gems. Curly's fiddling of Ragtime tunes from the great Hillbilly fiddle bands, round out the program. You can order it from Elderly, County Sales, off of this website and CD Baby!