Biography of Curly Miller & Carole Anne Rose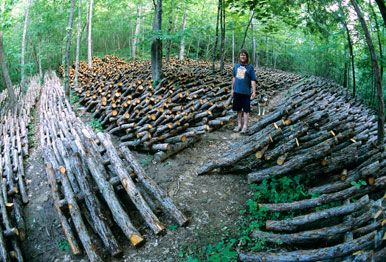 Curly Miller, Carole Anne Rose and their children, live on a beautiful farm located at the headwaters of Sweden Creek, in the tall peaks of the Ozark Mountains in Northwest Arkansas. Their remote home is in a high mountain valley, completely encircled by mountains and blessed with many springs. Together they grow Certified Organic Log-Grown Shiitake mushrooms, herbs, and edible flowers, along with most of their family food. They have been farming together since 1987 and playing music together since 1988. Their first CD, "Camp Meeting", produced in 1993, featured Classic Banjo pieces and old fiddle tunes. As the feature band for many contra-dances around the country, they focused on fiddle and banjo tunes for their CDs, "I Love This Girl" and "HORSE SHOE BEND", including Old Time tunes, ethnic tunes of Irish, Scottish and World Music origins, and old fiddle tunes found in tune books from the 1800s. As The Old 78's, their collaboration with Clarke Buehling resulted in their fourth CD, "Old Time Fiddle Rags, Classic and Minstrel Banjo". Their current fascination with the Ragtime, Charleston, Jug Band, and Jazz music of the early 1900's has created an entirely new repertoire featuring banjos of all sizes, Curly's 24K gold-plated kazoo, and amusing songs of the era!
Curly and Carole Anne were instructors for the 2005 Ashokan Southern Week, 2004 Swannanoa Gathering Old Time week, for fiddle and banjo workshops at The Ozark Folk Center since 1990 and have been invited to teach at Mars Hill in 2009. They have been the featured dance band for the annual Dance Week-End for the Arkansas Country Dance Society since 1991. They've been playing for the Fayetteville Traditional Dancers monthly dance since 1993, as well as for regional contra and square dances in St. Louis, Dallas, Oklahoma City, Memphis, and Springfield (MO). The duo has been invited on several East Coast dance tours including one with Beth Molaro in North Carolina playing for dances in Asheville, Winston-Salem, Chapel Hill and at The Farmer's Ball and one with Peter Lippincott for dances in Philadelphia, Baltimore, and in Washington, DC. They have played the Farmer's Ball many times and for festival dances including at Merlefest, Wheatland, Winfield, and have been invited to play for the Clifftop square dance 2009. The two musicains have been selected several times to Showcase at The North American Folk Alliance annual conference and also play for the dances at that event. Curly and Carole Anne have played for Irish step-dancing performances and dance competitions for The McCafferty School of Irish Dance (the host of three annual national dance competitions) and combine their Celtic repertoire with dance and concert performances.
Curly's research has uncovered many antiquated Irish and Scottish tunes which they play for Irish Dance groups for performances and competitions. Most recently, they had the great luck of meeting up with Christina Crowder and John DeMetrick, who have collected rare Traditional Romanian tunes. Christina, an incredible accordion player, has shared the collection with Curly and Carole Anne. The best of these tunes have been incorporated into both their dance and concert performances.
Curly Miller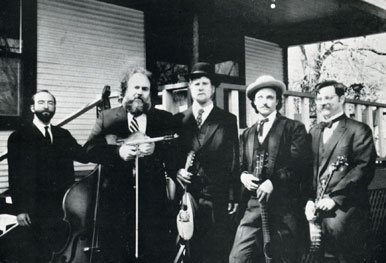 Curly comes from a musical family and began playing classical violin at age eight, Rock & Roll guitar in his teens, and traditional music in his early 20's. He played many instruments and studied many styles including Scottish, Irish, Cape Breton, and various Old Time and peasant styles from the U.S. and Europe. He performed for several years at concert and dance venues with the Arkansas-based band, The Skirtlifters, playing fiddle, banjo, mandolin, banjo-mandolin, and bowed bass. Curly performed at BRANDYWINE, PICCOLO SPOLETO, BLACK MOUNTAIN and THE OLD TOWNE SCHOOL OF MUSIC while touring with this string band. As Curly and Carole Anne's farm grew, however, they focused more on playing at home together and for local concerts, dance festivals, and contra and Irish dances.
Carole Anne Rose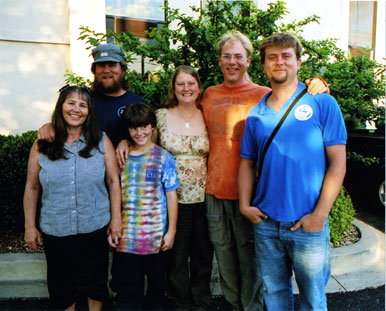 Carole Anne took accordion lessons as a child, switched to the guitar as a teen, took classical guitar lessons as an adult, and did the protest and folk song "thing" in the 1960's. After meeting Curly, her childhood love of the banjo was rekindled as a result of being able to listen to great Old Time and historic tunes. Together they began to play Classic banjo pieces along with Old Time fiddle and guitar tunes. Carole Anne liked the bass-note rocking guitar-rhythm and loved clawhammer-style banjo, so she combined both styles in her own unique playing style. The duo then began the quest to find the right banjo(s) for the job.
Curly and Carole Anne's Instruments
Since they started out with the Classic Banjo style, all of their banjos have skin heads and nylon strings. However, their 5-string Gold Tone Cello banjo is a newly made instrument and is being played with the set-up as delivered, with a Renaissance head and silk & steel strings.
Carole Anne plays three banjos on their CDs: a lady's model (probably Lyon & Healy circa 1890), a fretless H. D. Moulton (circa 1870, which is pictured on the cover of ILTG), and a custom, hybrid 6-string (5-string style) using the 12 1/2" pot of an 1893 S.S. Stewart Imperial Banjeaurine with a custom reproduction neck built by Bob Momich of Hot Springs, NC. It is tuned like the top 5 strings of a guitar, down 1 step, which gives her the deep, boingy bass notes and the ability to sound like more than one instrument.
Curly plays 2 fiddles on their CDs: the regular tuned fiddle is probably of French origin, mid-1800s, the cross-tuner is most likely a German catalog fiddle from the turn of the 20th century. Curly also bowed the upright bass for about half of the cuts on their CDs. In 2008, he purchased 2 new German fiddles from Alvie Dooms.
The Old 78's began their collaboration with Clarke Buehling around 2004 and includes their common interests of various banjo and fiddle styles prevalent up until the 1930's. Both Curly and Clarke play the 5-string Cello banjo on their recording, which inspired the building of the Gold Tone 5-string Cello Banjo (www.goldtone.com). Clarke plays many vintage and rare banjos on this recording.
Curly and Carole Anne had been on the look out for a cello banjo for many years since no one liked the responsibility of traveling with Clarke's very precious antique. At Clifftop, they had the opportunity to play one that Kevin Enoch had made and followed up with Kevin for a few years to see if he would be willing to construct one. During a Clifftop jam, Bob Carlin mentioned that Wayne Rogers was going to make a Gold Tone 4-string Cello Banjo for Marcy and that they should talk to him (quickly) about making a 5-string! Bob made the introductions to Wayne, which gave the duo the opportunity to play Classic Banjo pieces for him and to present the turn of the century setting for the 5-string Cello.
At that point, Wayne was only committed to building the 4-string Cello that Marcy had popularized, but they were hopeful that he would consider also making at least a few 5-strings! They sent him many pictures and measurements of Clarke's cello along with recordings of their in-progress CD so he could hear how the 5-string cello was incorporated into the banjo orchestra setting and the fiddle band rags of the late 1800's to the early 1900's. Wayne also urged them to put some videos up on You Tube. In the end, Wayne used the Gibson scale for both the 4-string and the 5-string, but Curly and Carole Anne now have their own Gold Tone gold-plated, 5-string Cello Banjo.
Five-string players are quickly able to transfer their playing skills to the Gold Tone CB-5, which makes it immediately accessible to a huge number of banjo players! Of course, the pitch, tone, and dynamics of the instrument are all incredibly attractive, so it has even more compelling reasons to own one than just the fact that it can be easily played. Curly and Carole Anne have been able to play Classic Banjo pieces with Marcy Marxer playing her CB-4 and have been invited to play at a banjo concert in Washington, D.C. in 2009. Folks will have a great time experimenting with these exciting instruments, both playing it the "old" way and finding new ways to play them.
Music
Curly listens to many recordings of pre-1940's musicians from the U.S. and abroad and also references old sheet music to find tunes. They have been gifted with field recordings and CD reissues (of old masters) by friends here and from Europe. Their exploration of the great fiddle ragtime era has brought the humorous songs of the Charleston Era, early Jazz and Jug Band music, and the kazoo into their repertoire. Another collaboration with Paul and Skye McGowen (of Shout Lulu) has brought more banjos and washtub bass into their musical arrangements!
Curly also finds tunes on old sheet music and in books including The Skye Collection by Keith, Norman & MacDonald (originally published in 1887), Coes Album of Jigs and Reels for the Violin published by T.B. Harms & CO. (1876), and One Thousand Fiddle Tunes published by M.M. Cole Publishing Co. (1940). Clarke Buehling has an extensive sheet music library and also sources various pieces and parts from The American Banjo Fraternity.
Jim Nelson, reviewer for THE OLD TIME HERALD, writes:
"From start to finish, this has to be one of the more enjoyable, and unusual selections of dance fiddle music released in quite some time....I suspect that if this duo could be somehow transported back through time about 150 years and plopped down smack dab in the middle of a dance in their neck of the woods, no one would even bat an eye."
Their concert and dance music receives acclaim everywhere they perform. In all categories, their music is obscure, interesting, different, captivating, unique and exciting. Their CDs are listed in ELDERLY, COUNTY SALES, VIGORTONE Records, and CD Baby. It is played on many radio stations from coast to coast and abroad.
The Old 78's Recording Studio
In 2007, Curly and Carole Anne installed a recording studio based on the technology of the Royer Ribbon mics. Their intent was to create a 3-dimentional stereo image of acoustic music that sounds as if you are listening to a live performance. And, according to the reviews so far, the "live sound" is just one of the many outstanding features of their recording projects!
They have completed several projects including two for Shout Lulu (www.shoutlulu.com), one for David Scrivner, Alvie Dooms & Karen Kraft, and their own long-awaited CD in collaboration with Clarke Buehling (of The Skirtlifters)! Their new CD is available on CD Baby. This CD features flatted-key fiddle rags, Classic Banjo orchestra pieces including the Cello Banjo (www.goldtone.com), and Minstrel pieces from Clarke's highly regarded music collection (www.theskirtlifters.com).
"I can't say enough good things about engineer Curly Miller's method of live recording with ribbon microphones... I think this is the third time I've praised Miller's ability to achieve an organic sound..." writes Mark Bilyeu (of Big Smith) for The Ozarks Mountaineer.