Old Time Fiddle Rags, Classic and Minstrel Banjo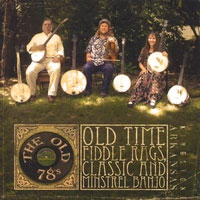 Listen
Alabama Trot

Indian War Whoop

Old Katoone

The Wild West Galop

This CD introduces Curly and Carole Anne's new band name, The Old 78's, and their first collaboration with Clarke Buehling! The three musicians explore the Classic Banjo Orchestra, the Ragtime Fiddle Band and Minstrel Banjo repertoires of pre-1930's music. It features obscure tunes, unusual instruments, custom arrangements (by both Clarke and Curly), and Skye McGowen's great percussive dancing on Indian War Whoop!
In the Folk & Acoustic Music Exchange, Mark S. Tucker says:
This is music that would make Robert Crumb and his Cheap Suit Serenaders jump for joy.... You'll get rags, rondos, carefully walked slowtimers, square dances, minstrel showpieces, and just about everything one would expect from the heyday of these compositions.... Indian War Whoop, for instance, contains some very intriguing suspensions and variations, yet the band's quite faithful to the old transcriptions… Perhaps most surprising among the hardware armada is a cello banjo, the equivalent of a contrabass, tuba, or bassoon.
Tunelist
The Sleigh Ride Galop (2:09)

by A.A. Babb copyright 1894 by L.B. Gatcomb Co., Boston, Mass. for two banjos: A.A. Babb was a prominent Boston banjoist in the late part of the 19th century. He was a substitute player with the Boston Ideals, the famous banjo, mandolin, and guitar group who toured all across the U.S. and Canada at that time. [1st–CB, 2nd–CAR, Cello–CM]

Cuban Two Step Rag (3:12)

Key of Bb: Curly learned this from Smith's Garage Fiddle Band, Document 8038 (1928). Clarke noted that the A-part of this tune strongly resembles the second part of Tom Turpin's "Bowery Buck". The tune was originally recorded at a slow tempo. As dance musicians, we often increase the pace and square up a tune, which led us to this version, which is quite different than the original. [F–CM, 6stB-CAR, B–CB, Bass–CM]

The Last Rose of Summer/Believe Me If All Those Endearing Young Charms/Come Back To Erin (3:01)

These three banjo solos were arranged by Zarh Myron Bickford for his book Banjo Player's Favorite, 1918, with accompaniments arranged by Clarke. The Last Rose is the title of Thomas Moore's setting to an older, possibly English, melody and later used in Flotow's opera "Martha" in 1847. Believe Me is also a Thomas Moore poem, to an older air, 1808. "Come Back to Erin" was composed by Claribel, a.k.a. Mrs. Charlotte A. Barnard (1830-69), a British composer. [1st –CB, 2nd –CAR, Cello–CM]

Indian War Whoop (2:30)

Key of G: Curly learned this from Floyd Ming and His Pep Steppers, County 3513 (1928). This includes a special flat foot dance appearance by Skye McGowen of Shout Lulu (www.shoutlulu.com). [F-CM, 6stB–CAR, MB–CB]

Russian Rag (2:50)

by George L. Cobb, 1918: We first heard this played by Dave Apollon and His Manila Orchestra, Yazoo 1066, 1932. Curly arranged the tune from the original piano score for First and Second Banjo. Clarke later arranged the Cello Banjo part, also from the original score. [1st –CM, 2nd -CAR, Cello–CB]

Cat Rag (2:30)

Key of F: Curly first learned this tune from one of our favorite contemporary fiddle players, Adam Rose, at Clifftop. Ron Cole, another of our favorite contemporary fiddlers, then got us a copy of the original by Dupree's Rome Boys with Bill Shores on fiddle. [F–CM, 6stB–CAR, Cello–CB]

Too Utterly Too (2:03)

from The Banjoist's Budget (1883): a book of arrangements of jigs, clogs, hornpipes, and walk arounds by Albert Baur, published by J.W. Pepper. [1st –CB, F–CM, 6stB–CAR, Bass–CM]

Plowboy Hop (2:51)

Key of Bb: Curly learned this from the Grinnell Giggers on Echoes of the Ozarks, County 3507 (1930). [F–CM, 6stB–CAR, B–CB]

Thunder and Blazes March (Entry of the Gladiators) (2:59)

by Julius Fucik: The arrangement by Arthur Stanley, as published by Clifford Essex Music Co. Ltd., London, proved unsatisfactory so Clarke put it away for about thirty years. When Curly came up with the piano solo, we were able to fix the problems and come up with a nice banjo-trio arrangement. [1st –CB, 2nd –CAR, Cello–CM]

Alabama Trot (2:16)

Key of Eb: Curly learned this from the Roane County Ramblers, County 3530 (1929). [F–CM, 6stB–CAR, B–CB]

Far South Medley – Far South/She Am Far Away (2:55)

from Frank B. Converse's 1887 Analytical Method for the Banjo: Likely one of the most rhythmically complex of composed Minstrel Banjo pieces. The book was one of the last in the nineteenth century to publish stroke-style arrangements. The origin of the tune "She Am Far Away", unclaimed by Converse, is unknown to us. [MB–CB, Cello–CM]

Miss Jola (3:05)

Key of G: Another tune Curly learned from Smith's Garage Fiddle Band, Document 8038 (1929). When Clarke first heard us play this tune, he exclaimed "Well, that's just Iola!" He gave us the piano score by Charles Johnson, published in 1904. The Rag was named for the small town of Iola, Kansas on the Neosho River. After comparing the two versions, Curly decided to use his interpretation of the A and B parts of the piano score and the C-part of the Fiddle Band version. As it turns out, the B-part of the piano version was stolen by Saxie Dowell in 1939, which he used as the melody for the popular song "Playmates". He was promptly sued by Charles Johnson, who received a substantial sum of money out of court. [F–CM, 6stB–CAR, B–CB, Bass–CM]

Strauss Waltz Medley (2:49)

From an arrangement by the British Banjoist, Bernard Sheaff and re-arranged by Frank C. Bradbury (Clarke's banjo teacher). This piece consists of themes from "On The Beautiful Blue Danube" and "Wine, Women and Song". [1st –CB, 2nd –CAR, Cello–CM]

Wildcat Rag (Key of F)/Ruth's Rag (Key of Bb and Eb) (3:31)

This is one of our favorite contradance medleys. The first tune is by McMichen's Georgia Wildcats, British Archive of Country Music 081 (1931). Clayton McMichen was one of the lead fiddlers in The Skilletlickers. Ruth's Rag is another tune by the Grinnell Giggers, County 3507 (1930). [F–CM, 6stB–CAR, B–CB]

Ricketts Hornpipe/Old Katoone (3:22)

Ricketts Hornpipe is a popular standard Irish-American tune. Old Katoone appears in the fiddle tune book [George H.] Coes' Album of Jigs and Reels for the Violin from 1876. Coes performed with top minstrel troupes in New York and California from the 1850's through the 1890's as a fiddler, banjoist and singer. The tune seemed to fit well onto the banjo. [MB–CB, F–CM, 6stB–CAR]

Devilish Mary (2:42)

Key of Am, Fiddle tuned AEAE: We first heard this tune on Tom, Brad and Alice's CD "We'll Die in the Pig Pen Fighting". Our friend Dave Smith lives in Fox, Arkansas, on the same road as Fate Morrison and gave us a cassette that he had recorded of Fate's original fiddling of the tune. We were compelled to square-up the tune so we could play it as often as possible at contra-dances. The action on Curly's cross-tuned fiddle was so high that it caused a harmonic squawk that was easier to just incorporate into the tune. The squawk and alterations in phrasing and melody render the tune almost unrecognizable from its' original state. Clarke adds to the transformation by inserting elements of the Classic Banjo favorite, "Chinese Picnic", for which we will always be grateful! [F-CM, 6stB–CAR, B–CB]

The Wild West Galop (3:08)

for banjo and piano by D. Emerson, copyright 1888 by D. Emerson, "Dedicated to Hon. W.F. Cody (Buffalo Bill)," published by William A. Pond & Co., New York: This piece was in a box of banjo music that Clarke obtained in Boston, MA, but without the piano accompaniment. Interestingly, there may have been a banjo player named Hicks with the Wild West Show, as his Lyon & Healy banjo is said to be floating around somewhere near here in Springdale, Arkansas. The Skirtlifters recorded this some years ago on their cassette Somewhere in Dixie. [1st –CM, 2nd –CB, 6stB–CAR, Bass–CM]

Captain George, Has Your Money Come? (3:14)

Key of C: Curly learned this from Narmour and Smith, County 3514 (1928). [F–CM, 6stB–CA]

Egyptian Princess (3:12)

by Joe Morley, the prolific English composer for 5-string banjo, published by Clifford Essex: It was one of the first British Classic Banjo pieces Clarke learned after his visit there in 1971-72. In this rendition, Curly and Clarke both play the Solo part as written and Carole Anne plays the Second Banjo part that Curly composed in about 1990. [1st –CB and CM, 2nd –CAR]

Dream Shadows (4:21)

Key of Eb: Curly learned this stunningly beautiful, raggy waltz from our favorite Old Time Fiddle Band, The East Texas Serenaders, Document 8031 (1929). [F–CM, 6stB–CAR, Cello–CB, Bass–CM]