Horse Shoe Bend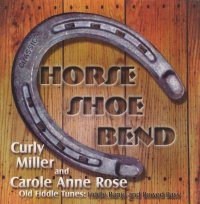 Listen
I Lost my Love and I Care Not

Horse Shoe Bend

The Old Countryman's Reel

HORSE SHOE BEND was just released in 2004 and is over one hour long with 26 great fiddle tunes! Curly plays the fiddle on all of the tunes and bowed bass on about half of the selections. Carole Anne plays either the 6-String or Moulton on all but two selections. Curly's tune source is listed along with the instrumentation for each piece.
Gail Gillespie, Editor of The Old Time Herald says:
"WOW! I Love your Horse Shoe Bend!...You have a Unique sound. Your great rhythm shows you've played for lots of dances! Great "old" sounding tunes - love the steady, deep banjo and bowed bass!"
Tunelist
Swamp Cat Rag, Lowe Stokes from Document-DOCD-8045 Fiddle (AEAE), Moulton
Hiram Allen's Tune, Dwight "Red" Lamb on "Joseph Won a Coated Fiddle" (Rounder-0429) Fiddle (GCAE), 6-String, Bass
Duffy The Dancer, Neil Nolan from "Farewell to Ireland" (Proper Records-P1109) Fiddle, 6-String
I Lost My Love and I Care Not, The McCusker Brothers Ceilidh Band from "Traditional Dance Music of Ireland" (Saydisc-CD-SDL-420) Fiddle, 6-String, Bass
Salty River Reel, Cyril Stinnett (MSOTFA-104) Fiddle (AEAE), Moulton
Moze Haymar Jig, Tune source listed as Boston, 1845 in Dan Emmett and the Rise of Early Negro Minstrelsy by Hans Nathan, 1962 Fiddle.
Horse Shoe Bend, Stripling Brothers (Document-DOCD-8007) Fiddle, 6-String, Bass
Dance to Your Daddy, Old Traditional British Isles Song Fiddle, 6-String, Bass
Give the Fiddler a Dram, Carter Brothers and Son (Document-DOCD-8009) Fiddle (AEAE), Moulton
The Old Countryman's Reel, Christeson's and Bob Walters Fiddle, 6-String, Bass
Shag Poke, Dwight "Red" Lamb (Rounder 0429)
Little Dog Trotting Down the River, Cyril Stinnett (MSOTFA-103) Fiddle (AEAE), Moulton
Frog's Frolic/Three Little Drummers, Coles Fiddle, 6-String, Bass
Katy Did, Lowe Stokes (Document-DOCD-8045) Fiddle (AEAE), 6-String
Dusty Miller, John Brown from "Great Big Yam Potatoes" (Mississippi Dept. of Archives and History #AH-002) Fiddle (AEAE), Moulton
E.M. Hall's No. 2, Coes Fiddle, 6-String, Bass
Skin Britches With Hatch, Edwin Johnson from "The American Swedish Spelmans Trio" (Rounder 6004) Fiddle, 6-String, Bass
Done Gone, Eck Robertson (County 5515) Fiddle, 6-String, Bass
Medley of 3 Polkas, two Danish and one Hungarian, Danish from "Jae' Sweevers egnsmusic fra Fano" (Fanomusik-CD 1992-1), Hungarian from "Kalman Balough and Meta-Gypsy Music From Hungarian Villages" (Arc 1373) Fiddle, 6-String, Bass
Bunker Hill/Sligo Reel, John Vesey from "Sligo Fiddler" Fiddle
Jenny on the Railroad, Carter Brothers and Son (Document DOCD-8009) Fiddle (AEAE), 6-String
Tater Vals, Craig Ruble (Banjar Records-ER-901) Fiddle, 6-String