Camp Meeting: Classic Banjo & Old Fiddle Tunes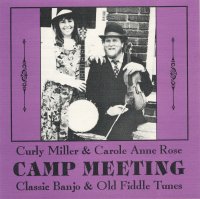 Listen
Leather Breeches

The Jay-Hawk

Camp Meeting Jig

Bubba Hutch, The Banjo Newsletter says:
"This release includes some really fine banjo picking, frailing and fiddle work...They have put together an enchanting album that is a true pleasure to listen to. You can't go wrong with this one."
Mary Larsen, Fiddler Magazine says:
"Camp Meeting is a collection of 22 great tunes...most obscure! Curly & Carole Anne are outstanding musicians. Highly Recommended..."
Tunelist
"The Last Patrol", by Parke Hunter, 1904
"Leather Breeches", Traditional
"Fight About The Fireside", from One Thousand Fiddle Tunes
"Harry's Jig/Skiowa Jig/Congo Minor Jig", from the playing of Harry C. Brown / James Buckley / Golby & Shepard
"Slim Gals", from Clayton McMichon
"Shattuck's Reel/Casey's Hornpipe", by Zeke Backus / from Casey Jones
"Radetzky March", by Johann Strauss (1848)
"Camp Meeting Jig", by Dan Emmett
"Sleepin' Lula/Old Blue Sow", Traditional / Enos Canoy
"Eqyptian Princess", by Joe Morley (c. 1911)
"Twin Katy's Reel/Grape-Vine Twist Jig/Dar's Sugar in de Gourd", from One Thousand Fiddle Tunes /James Buckley
"The Jay Hawk", by Parke Hunter (1909)
"Wild Horse", from Posey Rorrer
"Edmonton Airbus/Monaghan Twig", by Unknown / James Kelly and Paddy O'Brien
"Miss DeJersey's Memorial", by Pat Shaw
Radetzky March and all second banjo and bass parts arranged by Curly Miller. Banjo Solos from the library of The American Banjo Fraternity.